On May 27, 2023, a player from Ontario had a life-changing moment at Zodiac Casino when they won a massive million-dollar jackpot on the Thunderstruck 2 Maple Moolah slot machine. This incredible stroke of luck came from a mere 60 cent bet, resulting in a staggering CA$1,082,622 win!
Thunderstruck 2 Maple Moolah
The Thunderstruck 2 Maple Moolah version has become one of the most sought-after progressive slot machines among Ontario players. Not only can you win substantial sums on the non-progressive aspect of the slot, but Thunderstruck 2's classic slot format also appeals to gamblers who prefer frequent payouts.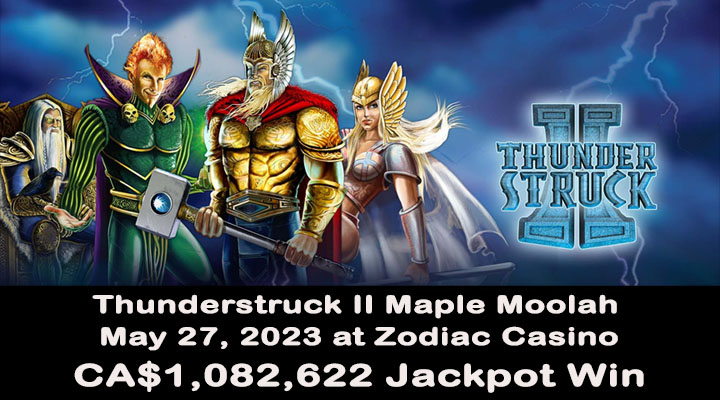 With its bonus wheel offering four different progressive jackpots, the Thunderstruck 2 slot from the Maple Moolah network has attracted jackpot hunters from all over. However, the Mega Jackpot segment is undoubtedly the star attraction, making this game incredibly popular.
In-Play Million Dollar Jackpot
The Thunderstruck 2 Maple Moolah slot game starts with a seed pot of $1 million, which grows continuously thanks to a fraction taken from each player's bet. The in-game jackpot keeps growing until a lucky player lands the winning combination; at this point, it resets to 1 million.
The Thunderstruck 2 theme is among the top choices in the Maple Moolah series, alongside other titles like Gold Factory Jackpots. Overall, Maple Moolah slots at Zodiac Casino have become a huge hit among players. Furthermore, the casino's Mega Money Wheel slot machine is a prime target for jackpot hunters, offering a chance to win $1 million with bets as low as 10 cents per spin.
Other Big Jackpots Won at Zodiac Casino
Million-dollar jackpots aren't a common occurrence at online casinos, and it's worth noting that winning them is a challenging feat. However, many players are willing to take the risk for a shot at crazy jackpots available on slot machines.

In Ontario's online casino scene, it's quite common to see winnings exceeding CA$100,000, especially on slot machines with a high payout rate of 96%—just like the ones found at Zodiac Casino. As of our publishing date, some of the most profitable slots in 2023 so far include:
Casino Rewards Hyper Star
Casino Rewards VIP
Kings of Crystals
Lucky Twins Jackpot
Thunderstruck Wild Lightning
Casino Rewards Sites
Ontario players have shown tremendous interest in several online casinos affiliated with the Casino Rewards chain. Our research indicates that Zodiac Casino remains a top choice among Ontario players. However, other iconic Casino Rewards sites have also gained popularity across the province, including:
Grand Mondial Casino
Yukon Gold Casino
Rest assured, all these online casinos are registered with the Ontario Gambling Commission, providing a fair and secure gaming environment.
Slot Machine Suppliers
The best online casino games often come from renowned third-party publishers, and the Maple Moolah slots are no exception. These high-quality games feature in the top casino sites in Ontario through the esteemed game publisher Games Global platform.